A to Z Challenge 2016: Easter Rising of 1916
2016 is the 100 year anniversary of this important moment in Irish history. Join me throughout the month of April for an A to Z of the Easter Rising of 1916.
A is About the Easter Rising
B is for Boland's Mill
C is for Cumann na mBan
D is for Dublin Castle
E is for Enniscorthy
F is for The Foggy Dew
G is for General Post Office (GPO)
H is for Henry Street
I is for the Irish Republican Brotherhood
J is for Jacob's Biscuit Factory
K is for Kilmainham Gaol
L is for Liberty Hall
M is for Countess Markievicz
N is for National Anthem
O is for On Banna Strand
P is for Padraig Pearse
Padraig Pearse, or Patrick Pearse, was one of the leaders of the Rising of 1916. He wrote the Proclamation of Independence and read it from the steps of the GPO; he was leader of the Irish forces and he was a poet.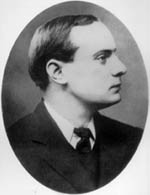 Pearse was interested in Irish culture and language from an early age. He started a bilingual school, St. Edna's, which he used as a place to store weapons before the rising. He also wrote poetry in Irish, like Mise Eire:
Mise Éire:
Sine mé ná an Chailleach Bhéarra
Mór mo ghlóir:
Mé a rug Cú Chulainn cróga.

Mór mo náir:
Mo chlann féin a dhíol a máthair.

Mór mo phian:
Bithnaimhde do mo shíorchiapadh.


Mór mo bhrón:
D'éag an dream inar chuireas dóchas.


Mise Éire:
Uaigní mé ná an Chailleach Bhéarra.

I am Ireland:
I am older than the old woman of Beare.
Great my glory:
I who bore Cuchulainn, the brave.

Great my shame:
My own children who sold their mother.

Great my pain:
My irreconcilable enemy who harrasses me continually...

Great my sorrow
That crowd, in whom I placed my trust, died.

I am Ireland:
I am lonelier than the old woman of Beare.
Padraig Pearse was executed for his role in the Easter Rising of 1916.