I am currently reading The House of the Scorpion by Nancy Farmer. I have just started, but I already love it. It was recommended to me, and I always find it interesting to read what people recommend for me.
Before that I was reading Flight Behavior by Barbara Kingslover. I had to stop reading temporarily because my digital library loan expired. Now I have it on hold in the elibrary and the physical library, so I can finish it. I love, love, love Barbara Kingsolver and am really enjoying the book!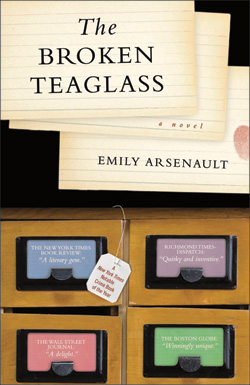 Before that I read The Broken Teaglass by Emily Arsenault. The most interesting part of the story was seeing how a dictionary is put together. Unfortunately, in the acknowledgements, the author writes that she took some liberties with that part of the story which totally bums me out :(. I found this book to be annoyingly repetitious. The story is revealed through clues that are repeated over and over again throughout the book. It felt like a ploy to make word count.
What are you reading this week?